Difference between revisions of "Bets"
From Astrolords
 

Line 3:
Line 3:
 

В бою "против всех" и "командных боях" можно устанавливать размер ставки. Её максимальная величина зависит от уровня Генерала, которым Вы хотите участвовать в данном бою.

 

В бою "против всех" и "командных боях" можно устанавливать размер ставки. Её максимальная величина зависит от уровня Генерала, которым Вы хотите участвовать в данном бою.

 

В боях "против всех"- победитель оставшийся единственным в живых- получает весь призовой фонд (ставки игроков). В "командных боях"- выжившие игроки победившей команды- делят между собой призовой фонд поровну.

 

В боях "против всех"- победитель оставшийся единственным в живых- получает весь призовой фонд (ставки игроков). В "командных боях"- выжившие игроки победившей команды- делят между собой призовой фонд поровну.

 
+
 
+
---
Revision as of 20:07, 30 January 2014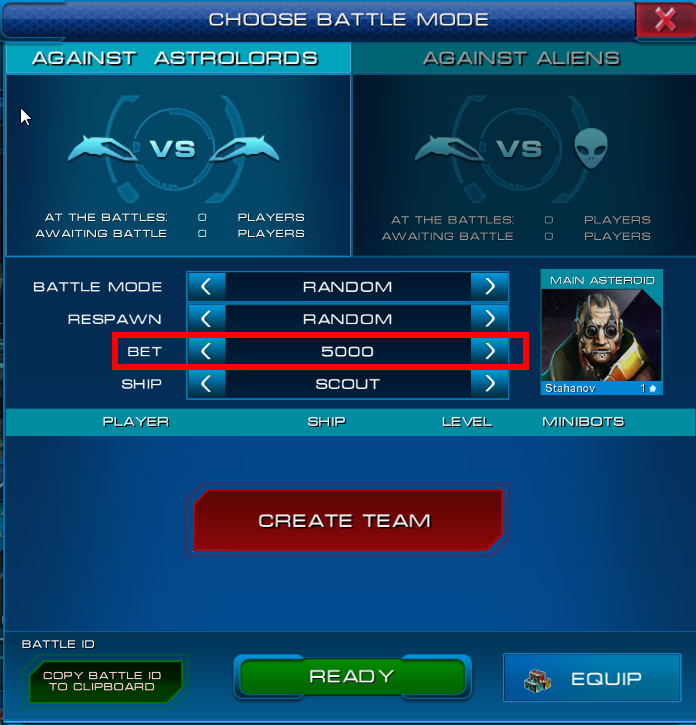 В бою "против всех" и "командных боях" можно устанавливать размер ставки. Её максимальная величина зависит от уровня Генерала, которым Вы хотите участвовать в данном бою. В боях "против всех"- победитель оставшийся единственным в живых- получает весь призовой фонд (ставки игроков). В "командных боях"- выжившие игроки победившей команды- делят между собой призовой фонд поровну.
Hint: You don't need minibots or credits to take part in training combat. When you win, all resources collected on this setting, during combat with Aliens, will be added on as a prize.