Spying
From Astrolords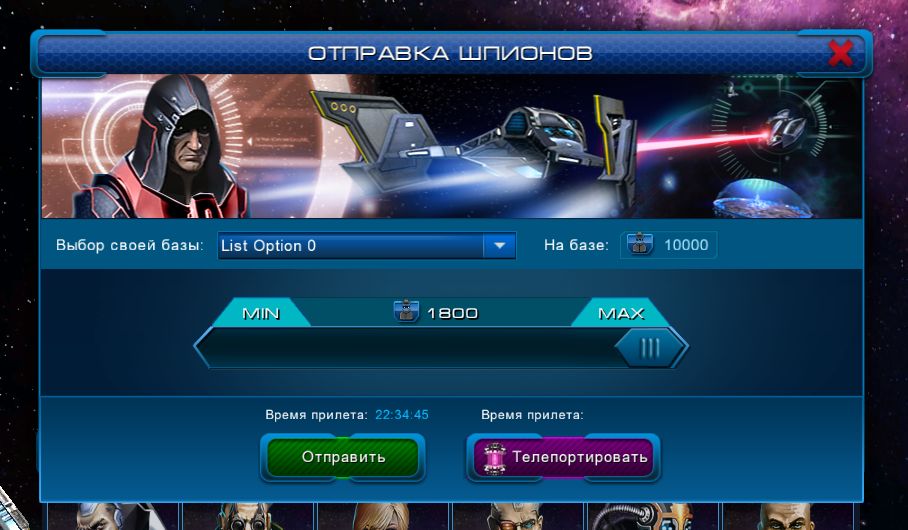 Spying is very important if you want to survive in the Oort Cloud. This feature allows you to see what your victim is capable of, what kind of resources he/she has as well as their amount.
If you want to spy on someone's asteroid, you need to:
1) Go to the Oort Cloud.
2) Find an asteroid you want to spy on.
3) Choose the number of spies you want to send.
4) Hit "Send". If you want to accelerate the process, you can hit "Teleport".
You can also send spies by hitting "Espionage" in "Diplomacy" window.
You can not send spies to the enemy asteroid if there is no free slot for espionage. To get the additional one, you need to learn the science of "Espionage". Your spies will start fighting the moment they arrive.
Phases of espionage:
1. Sending.
2. Breakthrough.
Determines chances to access according to comparison of your spies and enemy's (please refer to the table of Chances of getting access according to the numbers of your and enemy spies, in %). Can be enhanced with buffs.
3. Casualties.
Determines the number of casualties from both sides. Every spy has 1% chance to kill an anti-spy; every anti-spy, however, has 10% chance to kill a spy. Can be modified with buffs.
4. Infiltration.
Surviving spies are at the enemy base.
While being at the enemy base, your spies keep contact with it even if the base is beyond your radar's reach until at least one of your spies is alive or until you call them off This shows the enemy asteroid in the Cloud allowing you to attack it.
When you call them off, the spies return to the asteroid they were sent from or to the primary one if the first one had been recaptured.
The asteroid you spied on, can be found in the "Espionage" window.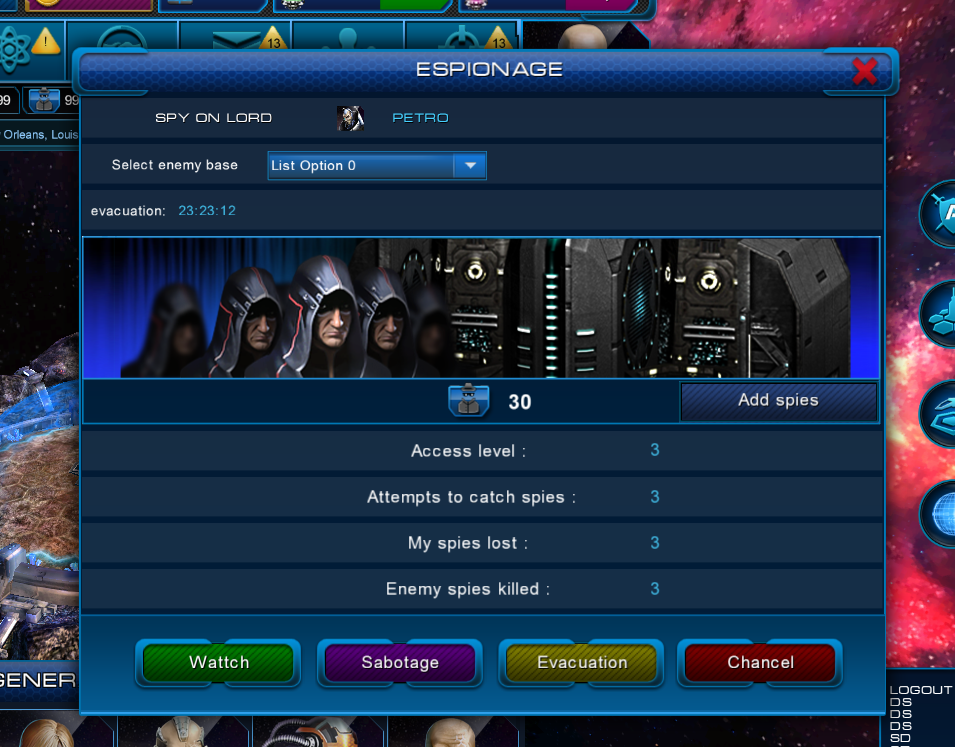 Levels of Access
Information you can get depends on your access level.

0: no information.
The asteroid will not be added to "Espionage" list (surviving spies retreat)

1: shows enemy base.
When you hit one of the buildings, you will see alert message saying "insufficient access level".

2: shows resources, Generals and StarBase. Allows you to:

3: shows enemy's missions. Allows you to see:
all the missions carried out by your enemy
buttons on the upper panel excluding "Messages" and "Store"
Control buttons are disabled.

4: additional asteroids.
Shows the list of all additional asteroids that can be found in the "Missions" list.
при уровне доступа 0 и 4, цель не узнает о том, что, кто шпионил за ней. При уровнях 1-3 - узнает.
При отправке миссии шпионажа на базе они выходят из лимита складского и при возвращении могут вызвать оверлимит владелец всегда может отозвать шпионов – при этом противник пропадает из листа войн мгновенно, при этом может заново послать, если противник в радиусе радара. время возврата шпионов зависит от текущего расстояния до цели.
You can send more spies by hitting "Add spies" and this is possible pnly once in one hour. повторно можно только если игрок в радиусе радара любого из астероидов игрока (Либо за дейтерий). Если не в радиусе радара, то возникает попап указанием что астероид вне зоны радара и с предложением за дейтерий. уровень доступа фиксируется до тех пор пока связь не потеряна, последующие шпионы, которые досылаются могут только увеличить уровень доступа. Если он увеличен - он заменяет предыдущий и даже если противник их выбил, то достаточно дослать хотя бы одного, чтобы контакт не начал разрываться и иметь прежный уровень доступа. за дейтерий есть ускорение миссии шпионажа - идут 30 секунд вместо 10 минут (или телепортация мгновенно). за дейтерий есть функция "автошпионаж инопланетян" посылает по 100 шпионов на каждый найденный АИ астероид. Если шпионов нет, то не посылает. Галочкой можно выключить. Длительность услуги на 7 дней.
Если противник стал союзником (подтверджил приглашение о союзе) то все его шпионы отзываются с данного игрока (при принятии приглашения показывается дополнительный попап "При заключении союза,ваши шпионы в количестке 13454 будут отозваны с баз игрока Вася Пупкин. Да-Нет"