Premium Starbase
From Astrolords
Premium Starbase is a premium automatic combat station available to players in the game of Astro Lords: Oort Cloud.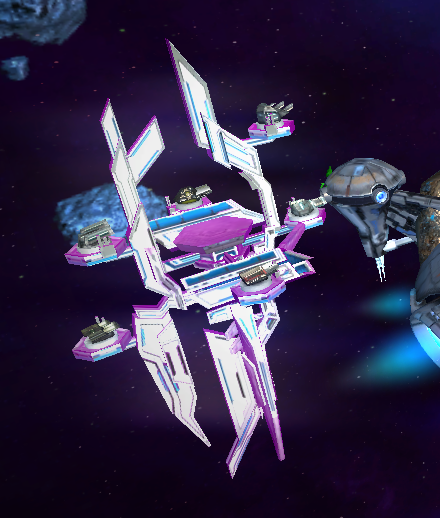 Unlike standard Starbases, a Premium Starbase possesses better characteristics: it deals more damage, it has a bigger ammunition reserve and its toughness is also higher.
To be able to change branches and also to upgrade their premium Starbase, the player must pay with deuterium. The higher the level, the higher the price.
The player should note that changing their standard Starbase branch to premium one is irreversible. The player WILL NOT be able to return to using a basic Starbase.
Level 1
| | |
| --- | --- |
| Toughness and ammunition | Cannons and radars |
| Toughness: 1,000 | Cannons: 1 |
| Ammunition: 100 | Radars: 1 |
Level 2
| Required to upgrade | Toughness and ammunition | Cannons and radars |
| --- | --- | --- |
| Upgrade time: 3 hours | Toughness: 1,530 | Cannons: 1 |
| Crystals: 3,000 | Ammunition: 130 | Radars: 1 |
| Microchips: 100 | | |
| Credits: 1,000 | | |
| Energy: 20 | | |
| Workers: 15 | | |
| Deuterium: 25 | | |
Level 3
| Required to upgrade | Toughness and ammunition | Cannons and radars |
| --- | --- | --- |
| Upgrade time: 6 hours | Toughness: 1,790 | Cannons: 1 |
| Crystals: 6,000 | Ammunition: 160 | Radars: 1 |
| Microchips: 200 | | |
| Credits: 2,000 | | |
| Energy: 30 | | |
| Workers: 20 | | |
| Deuterium: 50 | | |
Level 4
| Required to upgrade | Toughness and ammunition | Cannons and radars |
| --- | --- | --- |
| Upgrade time: 10 hours | Toughness: 2,050 | Cannons: 1 |
| Crystals: 9,000 | Ammunition: 190 | Radars: 1 |
| Microchips: 400 | | |
| Credits: 3,000 | | |
| Energy: 40 | | |
| Workers: 30 | | |
| Deuterium: 75 | | |
Level 5
| Required to upgrade | Toughness and ammunition | Cannons and radars |
| --- | --- | --- |
| Upgrade time: 15 hours | Toughness: 2,310 | Cannons: 1 |
| Crystals: 15,000 | Ammunition: 220 | Radars: 1 |
| Microchips: 800 | | |
| Credits: 5,000 | | |
| Energy: 50 | | |
| Workers: 50 | | |
| Deuterium: 100 | | |
Level 6
| Required to upgrade | Toughness and ammunition | Cannons and radars |
| --- | --- | --- |
| Upgrade time: 20 hours | Toughness: 2,570 | Cannons: 2 |
| Crystals: 30,000 | Ammunition: 250 | Radars: 2 |
| Microchips: 1,600 | | |
| Credits: 10,000 | | |
| Energy: 75 | | |
| Workers: 70 | | |
| Deuterium: 125 | | |
Level 7
| Required to upgrade | Toughness and ammunition | Cannons and radars |
| --- | --- | --- |
| Upgrade time: 1 day and 1 hour | Toughness: 2,830 | Cannons: 2 |
| Crystals: 60,000 | Ammunition: 280 | Radars: 2 |
| Microchips: 2,500 | | |
| Credits: 20,000 | | |
| Energy: 100 | | |
| Workers: 100 | | |
| Deuterium: 150 | | |
level 8
| Required to upgrade | Toughness and ammunition | Cannons and radars |
| --- | --- | --- |
| Upgrade time: 1 day and 6 hours | Toughness: 3,090 | Cannons: 2 |
| Crystals: 90,000 | Ammunition: 310 | Radars: 2 |
| Microchips: 3,500 | | |
| Credits: 30,000 | | |
| Energy: 125 | | |
| Workers: 120 | | |
| Deuterium: 175 | | |
Level 9
| Required to upgrade | Toughness and ammunition | Cannons and radars |
| --- | --- | --- |
| Upgrade time: 1 day and 11 hours | Toughness: 3,350 | Cannons: 2 |
| Crystals: 135,000 | Ammunition: 340 | Radars: 2 |
| Microchips: 5,000 | | |
| Credits: 40,000 | | |
| Energy: 150 | | |
| Workers: 150 | | |
| Deuterium: 200 | | |
Level 10
| Required to upgrade | Toughness and ammunition | Cannons and radars |
| --- | --- | --- |
| Upgrade time: 1 day and 16 hours | Toughness: 3,610 | Cannons: 2 |
| Crystals: 200,000 | Ammunition: 370 | Radars: 2 |
| Microchips: 8,000 | | |
| Credits: 40,000 | | |
| Energy: 175 | | |
| Workers: 200 | | |
| Deuterium: 225 | | |
Level 11
| Required to upgrade | Toughness and ammunition | Cannons and radars |
| --- | --- | --- |
| Upgrade time: 2 days | Toughness: 3,870 | Cannons: 3 |
| Crystals: 300,000 | Ammunition: 400 | Radars: 2 |
| Microchips: 12,000 | | |
| Credits: 75,000 | | |
| Energy: 200 | | |
| Workers: 250 | | |
| Deuterium: 300 | | |
Level 12
| Required to upgrade | Toughness and ammunition | Cannons and radars |
| --- | --- | --- |
| Upgrade time: 3 days | Toughness: 4,130 | Cannons: 3 |
| Crystals: 600,000 | Ammunition: 430 | Radars: 2 |
| Microchips: 25,000 | | |
| Credits: 200,000 | | |
| Energy: 250 | | |
| Workers: 300 | | |
| Deuterium: 375 | | |
Level 13
| Required to upgrade | Toughness and ammunition | Cannons and radars |
| --- | --- | --- |
| Upgrade time: 4 days | Toughness: 4,390 | Cannons: 3 |
| Crystals: 750,000 | Ammunition: 460 | Radars: 2 |
| Microchips: 30,000 | | |
| Credits: 250,000 | | |
| Energy: 300 | | |
| Workers: 350 | | |
| Deuterium: 450 | | |
Level 14
| Required to upgrade | Toughness and ammunition | Cannons and radars |
| --- | --- | --- |
| Upgrade time: 5 days | Toughness: 4,650 | Cannons: 3 |
| Crystals: 900,000 | Ammunition: 490 | Radars: 2 |
| Microchips: 35,000 | | |
| Credits: 300,000 | | |
| Energy: 350 | | |
| Workers: 400 | | |
| Deuterium: 525 | | |
Level 15
| Required to upgrade | Toughness and ammunition | Cannons and radars |
| --- | --- | --- |
| Upgrade time: 6 days | Toughness: 4,910 | Cannons: 3 |
| Crystals: 1,050,000 | Ammunition: 520 | Radars: 2 |
| Microchips: 40,000 | | |
| Credits: 350,000 | | |
| Energy: 400 | | |
| Workers: 450 | | |
| Deuterium: 600 | | |
Level 16
| Required to upgrade | Toughness and ammunition | Cannons and radars |
| --- | --- | --- |
| Upgrade time: 1 week | Toughness: 5,170 | Cannons: 4 |
| Crystals: 1,200,000 | Ammunition: 550 | Radars: 3 |
| Microchips: 45,000 | | |
| Credits: 400,000 | | |
| Energy: 450 | | |
| Workers: 500 | | |
| Deuterium: 700 | | |
Level 17
| Required to upgrade | Toughness and ammunition | Cannons and radars |
| --- | --- | --- |
| Upgrade time: 1 week and 1 day | Toughness: 5,430 | Cannons: 4 |
| Crystals: 1,500,000 | Ammunition: 580 | Radars: 3 |
| Microchips: 90,000 | | |
| Credits: 500,000 | | |
| Energy: 500 | | |
| Workers: 550 | | |
| Deuterium: 800 | | |
Level 18
| Required to upgrade | Toughness and ammunition | Cannons and radars |
| --- | --- | --- |
| Upgrade time: 1 week and 2 days | Toughness: 5,690 | Cannons: 4 |
| Crystals: 1,800,000 | Ammunition: 610 | Radars: 3 |
| Microchips: 100,000 | | |
| Credits: 600,000 | | |
| Energy: 550 | | |
| Workers: 600 | | |
| Deuterium: 900 | | |
Level 19
| Required to upgrade | Toughness and ammunition | Cannons and radars |
| --- | --- | --- |
| Upgrade time: 1 week and 3 days | Toughness: 5,950 | Cannons: 4 |
| Crystals: 2,100,000 | Ammunition: 640 | Radars: 3 |
| Microchips: 110,000 | | |
| Credits: 700,000 | | |
| Energy: 600 | | |
| Workers: 650 | | |
| Deuterium: 1,000 | | |
Level 20
| Required to upgrade | Toughness and ammunition | Cannons and radars |
| --- | --- | --- |
| Upgrade time: 1 week and 4 days | Toughness: 6,210 | Cannons: 4 |
| Crystals: 2,400,000 | Ammunition: 670 | Radars: 3 |
| Microchips: 120,000 | | |
| Credits: 800,000 | | |
| Energy: 650 | | |
| Workers: 700 | | |
| Deuterium: 1,100 | | |
Level 21
| Required to upgrade | Toughness and ammunition | Cannons and radars |
| --- | --- | --- |
| Upgrade time: 1 week and 5 days | Toughness: 6,470 | Cannons: 5 |
| Crystals: 3,000,000 | Ammunition: 700 | Radars: 3 |
| Microchips: 130,000 | | |
| Credits: 1,000,000 | | |
| Energy: 700 | | |
| Workers: 750 | | |
| Deuterium: 1,300 | | |
Level 22
| Required to upgrade | Toughness and ammunition | Cannons and radars |
| --- | --- | --- |
| Upgrade time: 2 weeks | Toughness: 6,730 | Cannons: 5 |
| Crystals: 4,500,000 | Ammunition: 730 | Radars: 3 |
| Microchips: 140,000 | | |
| Credits: 1,500,000 | | |
| Energy: 750 | | |
| Workers: 800 | | |
| Deuterium: 1,500 | | |
Level 23
| Required to upgrade | Toughness and ammunition | Cannons and radars |
| --- | --- | --- |
| Upgrade time: 2 weeks and 2 days | Toughness: 6,990 | Cannons: 5 |
| Crystals: 6,000,000 | Ammunition: 760 | Radars: 3 |
| Microchips: 150,000 | | |
| Credits: 2,000,000 | | |
| Energy: 800 | | |
| Workers: 850 | | |
| Deuterium: 1,700 | | |
Level 24
| Required to upgrade | Toughness and ammunition | Cannons and radars |
| --- | --- | --- |
| Upgrade time: 2 weeks and 4 days | Toughness: 7,250 | Cannons: 5 |
| Crystals: 7,500,000 | Ammunition: 790 | Radars: 3 |
| Microchips: 160,000 | | |
| Credits: 2,500,000 | | |
| Energy: 850 | | |
| Workers: 900 | | |
| Deuterium: 1,900 | | |
Level 25
| Required to upgrade | Toughness and ammunition | Cannons and radars |
| --- | --- | --- |
| Upgrade time: 3 weeks and 3 days | Toughness: 7,510 | Cannons: 6 |
| Crystals: 9,000,000 | Ammunition: 820 | Radars: 4 |
| Microchips: 320,000 | | |
| Credits: 3,000,000 | | |
| Energy: 900 | | |
| Workers: 950 | | |
| Deuterium: 2,500 | | |